Kchingg! Our rings would like to make an entrance!
'Photoshoot' sendiri ber-backgroundkan photoshop berbekalkan ipondan 3mp. Ke 2mp tah? Keh keh. Puas carik lighting yang sesuai sbb kamera tadek flash kann. Takpe, kamera tak canggih kena usaha lebih sikit :D
Cincin ni aku beli the exact pair untuk incik sayang ngan aku, sebab aritu incik sayang kata nak bagi gelang untuk aku time batal air semayang nanti. Tapi pastu dia kate nak bagi cincik plak. Haha tak kisahlaa... Janji ramai cincin aku pasnih keh keh. Lepas dah beli ni terasa macam design cincin ni terlalu 'berat' plak untuk incik sayang, sbb banyak sangat diamond. Macam negro hip-hop plakkkk aku rasa, pakai banyak bling-bling ni gagagagaga!
Beli cincin ni dari bulan 6 haritu lagi ekceli, dengan Ija n tunangnye. Hajat di hati nak seprais incik sayang time hari kawen nanti. Tapi seperti biasalah, being me, takkan tahan punye nak cite!:D Plus, takut cincin yang diseprais tak fit plakkk ngan dia time kawen nanti, tu terpaksa bagitau gak tu.. :))
Ini cincin yang ija beli untuk tunangnyier.
Beli cincin ni kat Bausch K., (formerly known as Mimosa) KLCC lepas bace forum n blog b2bs. Store nih jual exclusive stainless steel rings. Incik sayang, seperti ramai lelaki lain adanya, tak kisah pon ada cincin ke tak, jadi, an exclusive stainless steel ring would do. Yang penting, AKU MAU DIA ADA CINCIN. Sebab cincin itu vital bagi aku, tanda dia dah ada yang punye heppp takleh kacau heppp. Cam aku pon, kekadang prasan single tapi tetibe teraba cincin tunang kat jari, baru sedar diri ini udah berpunya! Huahuaaaa.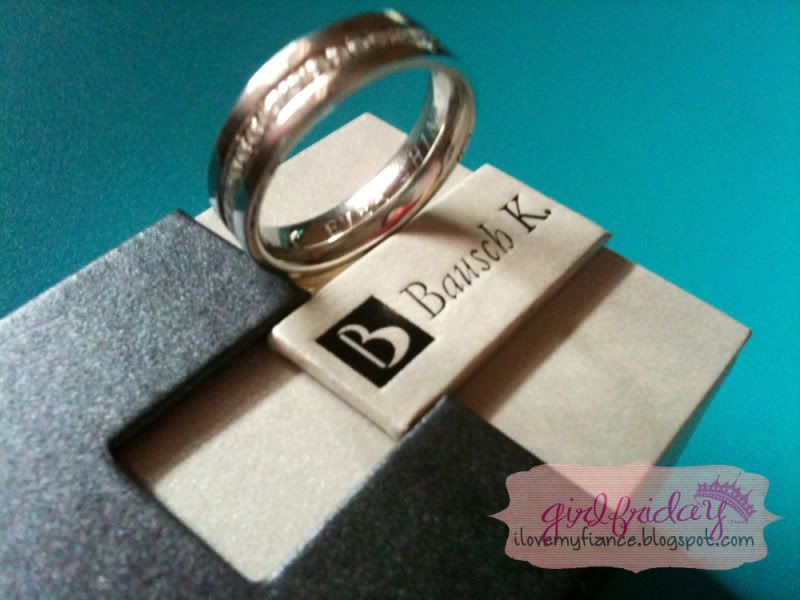 For him, it says: "EVER THINE, EVER MINE"
That's the best shot I could give T_T
Kamera 'canggih', remember?
Cakap pasal material cincin nih, platinum memang tak mampu. Kalo mampu yang lowest end yang start dari 2k tu, design biasa sangat. Mahal2 tapi design basic sangat baik takyah, they all look almost the same, bagi aku laa. Suasa, aku was-was plak nak beli sbb ada orang kate boleh, ada orang kate laki takbleh pakai. Silver plak, over the time dia akan pudar, pastu kena maintain ape sume leceh. So last2 ameklahhh stainless steel yang akan sentiasa shiny, and on top of all affordable. Tapi takmo laa yang jual kat kiosks tu je, so gugel2 lantas jumpe bausch k tuh.
For her, it says: "FOR THEE, ANGEL"
Yang penting, nilai cincin nih bukan ukuran chenta kasey sayang aku pada incik sayang. Aku cuma nak ia meaningful sangat, jadik aku mintak cincin tu engraved ngan meaningful words, instead of our names.
"Ever thine, ever mine"
tu obviously amek dari Sex And The City The Movie, sangat catchy n melekat di hatiku. Originally in the third letter by Beethoven called Immortal Beloved. Intentionally aku buang 'Ever Ours' sbb it would be pricey to have it engraved THAT long! Hahaaa.
How I wish they have fancier fonts for that matter, sbb font yang dia gune tu basic sangat...
On the way bawak incik sayang pegi Bausch K (i love the sound, Bausch K :D) untuk engrave cincin kitorang tu, aku cakap kat dia, aku nak tulis ever thine, ever mine kat cincin dia nanti. Aku tanye dia, "
B, kalau b, b nak tulis ape untuk yayang kat cincin? Kalo taktau nak tulis ape, kite tulis sama je la, ever thine, ever mine.
"
Incik sayang spontaneously terus jawab, "
For thee, angel.
" unsangkarably! Adakah beliau dah plan sejak dulu lagi tu? Sbb spontaneous giler dia jawab ok.. Tadek pk panjang. I instantly fell in love with the sound of it! Ceh mentanglaa dia jadi angel... Gagagaga! Sooo, terus request tulis tu kat cincin gwe... :")
Asalnye nak tulis kat cincin incik sayang, "
Zauji, Jannati
", tapi somehow rasa cam skema ke ape tahhhh huhu. Maksudnye, suamiku, syurgaku. Tapi aku tak konpem ngan nahu (grammar) dia plak... :D Yang aku tau hasil dari belajar arab selama 3 tahun dulu - zauj/zaujan = suami. Zaujah = isteri. Bile nak tambah 'ku' kat 'suami-KU' tu, patutnya zauji ataupun zaujani laa kot... Ada sesape tere arab di sini? :D
Okay, dah panjang cite aku pasal cincin SAHAJA ok.. Huahuaaa sile jangan muntah. Ada lagi satu gambar cincin nak tunjuk nih, yang aku jumpe dalam satu
blog b2b
nih:
Tersengih2 aku bace entri beliau sebab cincin nih adalah dream wedding band
beliau! Aku tau, not exactly, tapi it feels grrrrreat to possess something similar to someone else's DREAM wedding band... :D
Skian, trimass kassisss!
Jaga diri & stay pretty!

xoxo,