Excited nak share project malam tadi!
Tapi malangnye tertinggal usb cable kat umah, bendalah ni plak mana bleh bluetooth, jadi ngan gigihnya aku email gambar2 ni dari tepon ke laptop ngeee. T_T
Layan gambar yok! :D
Bilik yang berkonsepkan tongkang pecah T_T
Rasa cam sempit giler bilik aku bile barang kawen dah makin banyak ni.
Tu pun dah banyak export ke Kuantan dah pon T_T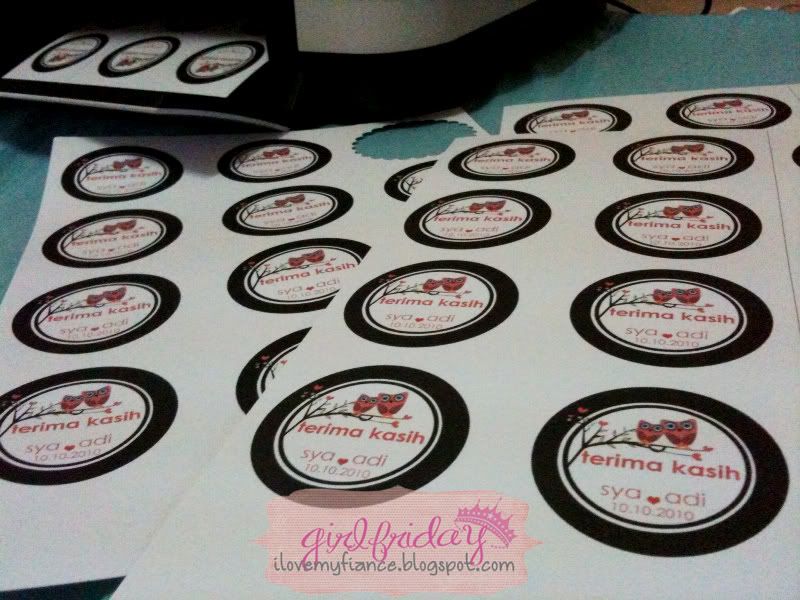 Thank you tag in the making.
Awal giler aku print thank you tag kan? Takpe, biar cepat asal selamatttt. Kalo buat last minit ada banyak possibilities:
1) Aku stress sebab terkejar-kejar.
2) Designer's block. Ecehhh thank you tag ponnn nak block-block kononnn

3) Ada high possibility yang aku akan tadek tq-tag langsung. Either it's perfect (up to my standard) or tadek langsung ye

Judging from past experiences.

So smalam aku main print je sampai ink abis sebab malas nak pk dah pasal thank you tag ni. At least dah ada benda bleh di cross out daripada list. Tapi tak cukup lagi ni, baru satu ink (yang 1/2 full) aku abiskan. Ada satu lagi yg full. Baru dapat dalam 300 (tersalah kire kertas) 600 tags. Aku print atas kertas putih 230gsm, good enuff.
Thank you tag tersayeengg.
Sbb aku buat ngan penuh kasey sayang niii.
Sape tak sayang tunang oiii *tetibe*
Terima kasih fotolia atas gambar OWL & WATERMARK (yang telah dicuci abis

) torsobut... Keh keh. Ni owl yang aku plan nak gune untuk kad kawen nanti ni. Sape yang teka gambar dalam entri '
Mari Design Kad Kawen, Mari!
' aritu adalah Spongebob Squarepants angkat tangan??? Huahua tak sanggup akuuu gune spongebob lam kad kawen!


Terima kasih untuk incik sayang yang hidupnya sentiasa bergelumangan ngan photoshop, sbb suggest gune font century gothic, time aku pening nak pilih font ape. Nak yang fancy2, tapi macam tak seswai plak bile buat tag nih. Last2 try century gothic terus woahh puas ati trus.


Adakah begini thank you tag aku nanti?
Aku tetap suke jenis thank you tag yang stick out daripada favor box aku nanti walaupun kakak aku cakap cam lollipop, ataupun susah nak store nanti. Maybe tak semua boxes buat camni kot. Tgk dulu cemana.
Ok, setel satu hal! Malam ni insyaAllah balik Kuantan, kehadiran diwajibkan. Huhu. Ingat nak balik sekali je bulan ni demi berjimat tapi nampaknya tak berjaya. Kakak aku mintak aku balik sbb nak decide kaler cat n bawak balik dipping solution sbb dah abis. Kat kuantan ada, tapi jenis yang tak bes. Aku pon nak balik mintak kakak aku jahitkan baju bertandang, takyah designer2 ni ye. Butik Cik Aini gak yg didambakan sbb nak suruh itu ini senanggg.
Ok, I'll see u guys when I see you!

Jaga diri & stay pretty!

xoxo,