Harini lepas lunch aku terus chowww balik umah half day. Sakit mata terasa mencucuk. Tengok lens cam tadek scratch pon...
Balik umah, tido dari pukul 4 ptg camtu sampai kol 9 mlm! Segala panggilan telefon tidak dilayan... Kalo sakit mate memang mudah tido... Last2 bangun pon sebab rasa macam period. Fuhh that explains why rasa super duper exhausted!
Harini ngan smalam berjaya tak makan nasik, tapi benda lain aku makan, tapi dalam keadaan berjaga-jaga lah. Tapi aku make sure minum air banyak. Pastu, smalam terjumpe jalan shortcut dari lrt ke opis! Haha jimat 5 minit bermakna kurang 5 minit jugaklaaa masa eksesais aku... T_T Ngeeeeee.
Just nak promote satu
wedding-related site yang agak unik
secara free. Ooh how I wish aku ni redmummy, from head to toe, holiday sumer orang sponsor. Giler laaaaaaaa.
Dah lama aku tempah ni, tapi skang baru nak tunjuk. Ingat nak simpan sampai hari kawen, tapi tatahan nak citer huahuaa (as usual

). Tapi ni artwork dia je, bukan the real thing. The real thing aku dah export balik Kuantan.
A 'Just Married' Car Plate!
Tak jumpe plakk measurement dia...
Material dia sejibik cam plate kete biasa yang plastik tu.
Ok ini dia punye saiz.
Ni sebab aku tak amek yang Malay punye.
Who would use 'Selamat Hari Pengantin'??

Aku plan nak gune as props untuk outdoor shooting ngan untuk rombongan cik kiah ke umah incik sayang nanti... Dan plan nak letak kat cermin belakang Chuck n drive around selama sebulan lepas kawen thee hee hee!

Lepas dah boring gune, maka blehlaa framekan kat dalam bilik tido. Let's see that as a friendly reminder to your husband, so that he won't forget your anniversary! Tapi 10 hb 10 kalau lupe jugak, mmg nak kena silambam tauuu...
Ni lagi satu yang aku beli dari website tu jugak, kchinggg!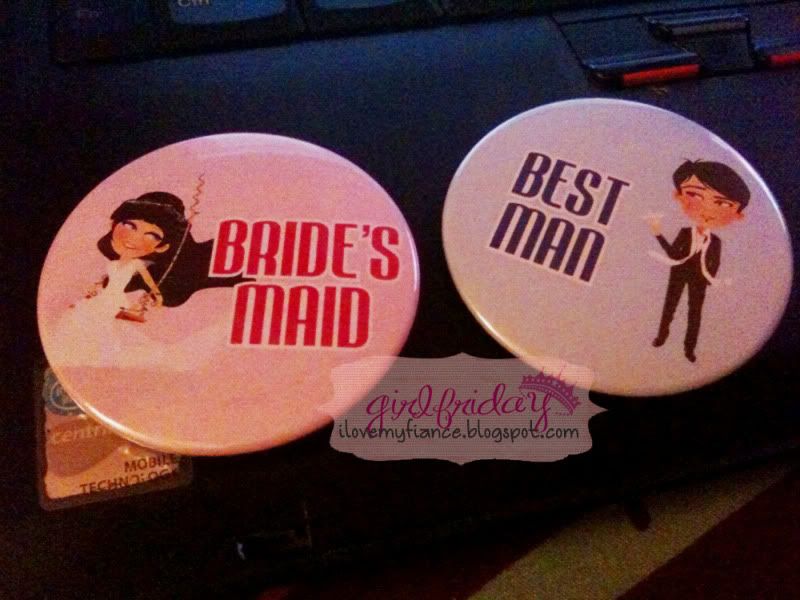 Button badges untuk cik ija the bridesmaid ngan bestman incik sayang nanti

Aku apdet pasal ni sbb belum pernah tengok any B2B lam list aku wat entry pasal ni. Sharing is sexy you knowww.
Ok, masa untuk beradu!!
Jaga diri & stay pretty!

xoxo,