Maikel kelmarin ditemui dalam keadaan masey belum cacat anggota :D
Kelmarin terpaksa call ABDUL KARIM gak sbb number2 lain yg tampal kat tiang jejambat tuh dah tadek lam perkhidmatan laa tak angkat laa ape laa. Dia cakap anak buah dia dah otw, tapi dah tunggu sejam camtu tak sampai2 gak!! Dahlaa setiap kali tepon, nak letak cepat2! Gerammmmm!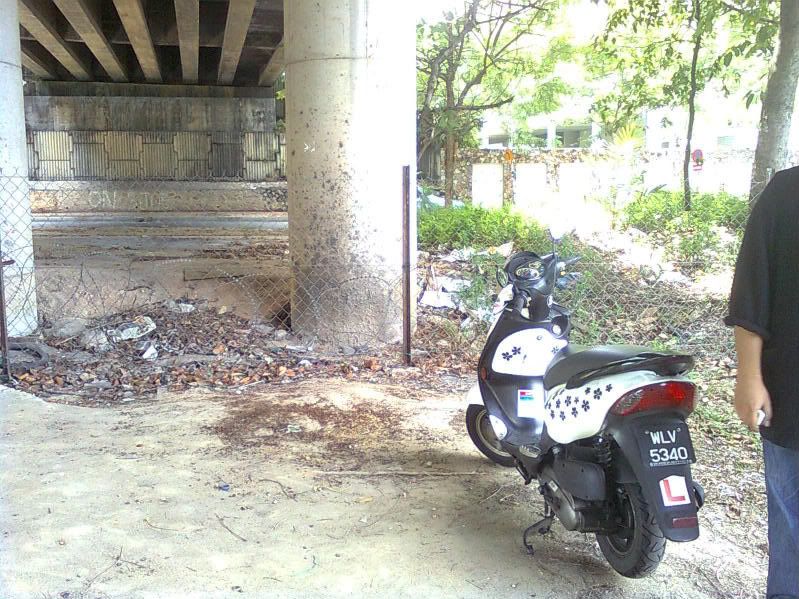 Setelah setaun menanti, anak buah Abdul Mangkuk tak sampai2 gak.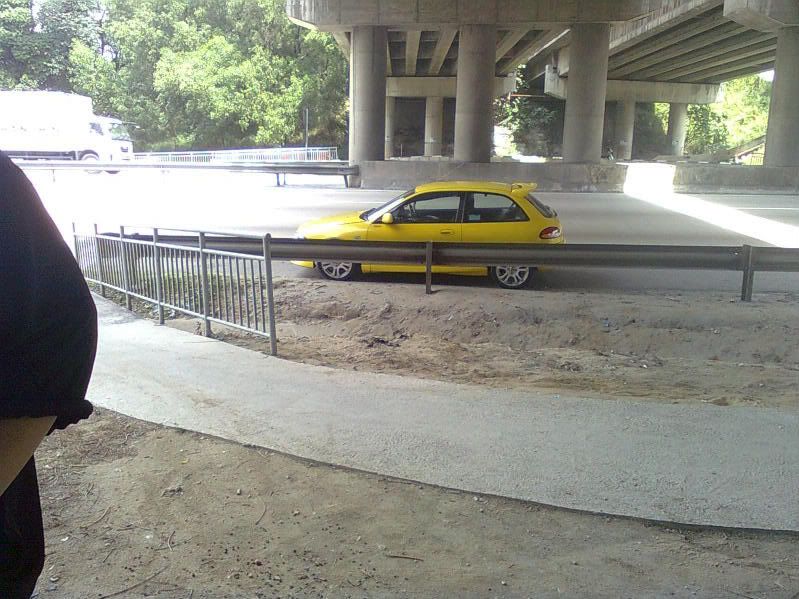 Yee, gambar tangan lagi. Geram bile nk amek gamba dia je, statlaaa buat muke alien dia tu. So silelah imagine je muke dia cemana daripada gambar lengan yg patik kepilkan ni ye T_T.
Scary giler parking teksi kunen incik sayang tepi hiway camni. Sumer laju tak hengat tsk tsk.
So last2 pegi carik bengkel berdekatan (jauh ekceli), bebudak tu pun pegi ngan motor diorang pastu bawak motor aku dengan cara 'menompang kaki' bawak ke bengkel. Ting tong ting tong, kene charge $195 wahaha there goes my budget for baju raye cun this year!
Mmg seperti diorang duga, belt tu yg putus. Legeee... At least bukan sbb engine ke ape. Ada laa mende2 lain yg rosak, cam terhakis gitu, so tukar terus laa. Dalam kes aku ni, belt tu bukan setakat putus - dia dah '
berderai cam jerami
', to quote ayat incik sayang :D Adik bengkel tu cakap, "
Belt skuter ni macam rantai moto jugak, kene service. Dalam 10k camtu, orang biasa tukar baru.
" Aku ooooo je laa sbb dari utp sejak 2 tahun lepas taknah tukar pun (-_-")
Soooo, smlm aku gi ameklaa moto tu kat area Kampung Sungai Ara, kelmarin tu tak laratttt tengok muke incik sayang yg dah bagi reaksi muke pelbagai sbb dahaga n penat sangat menunggu tetengah panas. Walaupun dia kate issokayyy issokayyy, tapi ishk2. Sian sangat dia, aku tak pose takpe... So aku ajaklaa dia balik je, lagipun aku lupe bawak helmet. Dari pagi keluar sampai pukul 3 tak setel2. So mari kite chow. Tinggal je maikel kat bengkel.
+++++++++++++++++++++++++++++++++++++++++++
Aku tak apdet2 sal kompeni uk tu kan? Haaa konpem tak dapatlaa kirenye tu, walaupun agent tu tadek call pun, walaupun yo-yo je janji nak call aku bagitau dapat ke tak. Chait. Bukan rezekiku dah tu... :( Aku sangat terasa diaorang tak hire aku sbb dia ada cakap camni, "
My only concern is that, u said ideally you would be working in an end-user environment. Because our company is a consultancy company
."
Sebelum tu dia tanye, "
Ideally, where would you be working at?
"
Pastu aku ada la justify cakap, "
Yeah I know this is a consultancy company, but Malaysian office is for support only right? I am ok with support.
"
So berdasarkan tele-conference interview di atas, hatiku kuat mengatakan yg aku tak dapat that job sbb diorang risau i don't have the passion for consultancy business. Alaaa aku ekceli flexible je, i mean dah dia tanye 'ideal' cemana kan, aku jawablaa end user, sbb pk bile dah kawen nanti takyah travel2 mengikut office client kat mana kan, macam consultancy. Hadei terlajak kata buruk padahnye...
Ok btw, here's a tip yg aku terbaca somewhere, tapi malangnye dah lepas interview baru terbaca.
Kan biasanya interviewer akan tanya, "
Do you have any question?
"
Sile jawab camni, "
Yes, can I have this job? Because I really think I could do well here!
" Bammm, laki yg jawab soklan ni terus dapat job tu. Sbb it's catchy, n dorang terus nampak how badly we want the job. Sile try ye lenkali ;)
Wokey, today Aju n Kak Da datang shopping2 sket then kidnap aku balik Kuantan cuti merdeka. Yezz! Mariiiiiiiii ikut kami!

You know you love me!