Harini ceo anta email cakap sal global economic crisis & the company.
Memule aku ingat company ni maintain je, economic downturn skang ibarat ombak manja je (ayat mangga T_T) tapi rupenye, it is more than that. Sampai tahap kene downsize.
Stat smlm, aku dengar khabar, sume consultants from India (dorang sume contract, bukan permanent) akan ditamatkan contract dorang. Ramai tuuu. Permanent insyaAllah kekal je sumer. So, takleh harap banyak lah untuk bonus ujung lan 2 nih ngan increment bulan 4 nih.................
Tapi nak buat cemana kan kalo dah masalah global?? Even industry giants pon bleh collapse, apetah lagi yg ngah menapak nih. Bile dah camnih, large corporations mula aa delay dorang nye SAP implementation, hence affecting us yg rely on these projects.
Plan skang, kene carik gak client yg still ada spending power lam economy teruk camni, besides government related projects sbb tentula lebey stable. Ishk semoga tak tersangkut ah rezeki bulanan aku pasnih. Amin...
Tinggalkan persoalan tak bes. Arini aku ada lukis map untuk Ina n sesape yg taktau jalan nak gi William's Kelana Jaya tu wahha. Map nih based on lensalily.com punye explanation n experience aku sendrik adanyee.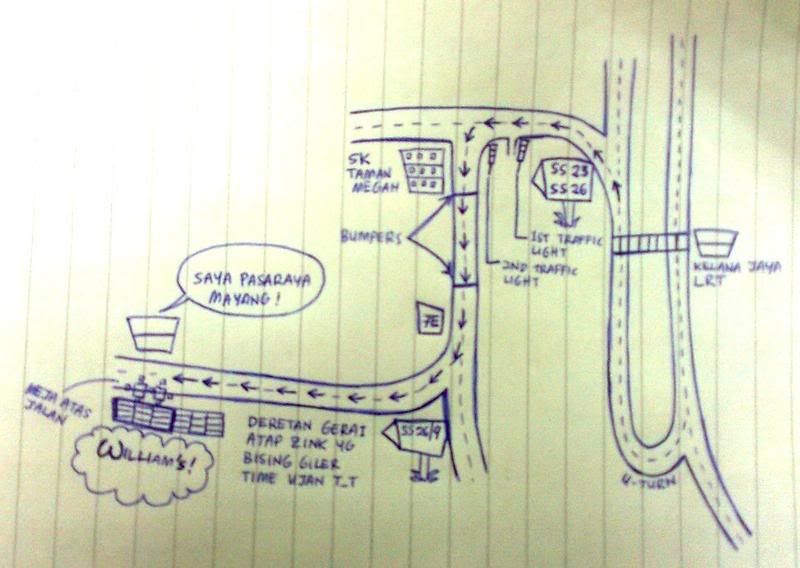 Memule cari jalan utk ke lrt kelana jaya dulu. I don't care where you're from as longgg as you love mee.
Kalo korang dari side seblah lrt KJ tu, carik u-turn paling dekat sampailaa korang sampai smula kat overhead bridge cross the road yg aku lupe nak label tu.
Tak jauh dari overhead bridge tu, akan ada signboard

'SS 23 SS 26'

, so terus belok kiri.
Dah masuk kiri, jumpe traffic light yg dekat2 tau. Aku rasa cam ada 3 traffic light baru belok, tapi lensalily cakap 2. Saya kurang yakin ngan jawapan saya jadi saya pilih c. So, pastikan ada sekolah SK Taman Megah baru belok ok.
Hitung bilangan bumper, masuk bumper kedua (ceh, 2 bumper je), nampak 7E on right hand side, belok kanan.
Endennnn, stretttt je smpi jumpe Pasaraya Mayang yg ada gerai burger depan dia.
William nye gerai tadek tulis apa2, so kalo nak tau yg mana satu, gerai yg paling ramai orang itulah William's, pastu kalo nak konpem lagi, carikla kelibat incik William itu sendiri seperti gambaran pelukis berikut: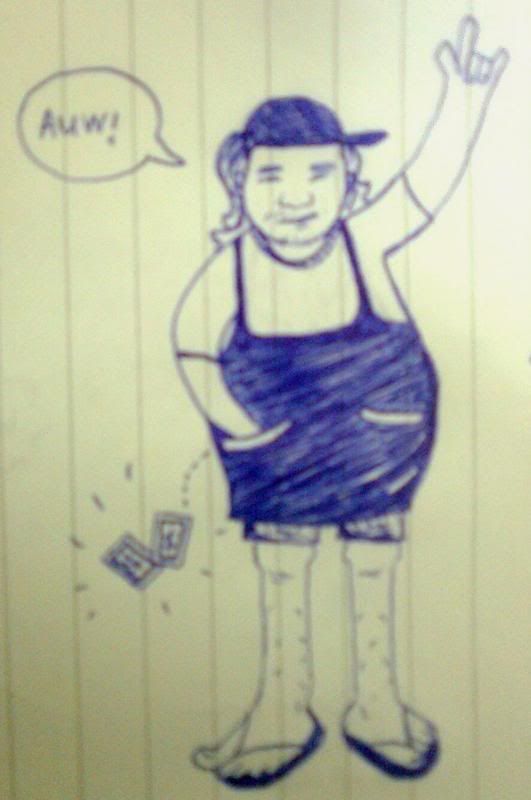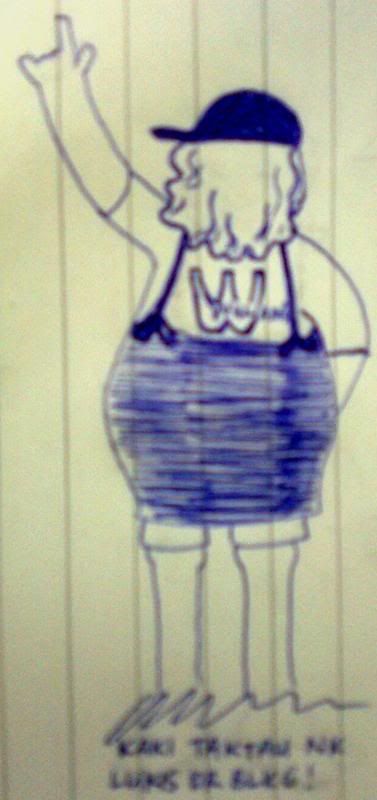 William with his beer belly dan duit berkepuk-tak-muat-poket dari gambaran pelukis.
Orais, setel. Bayar bayar bayar bayar.

Wa causin dulu!

Ya Allah! Lepas publish baru prasan, ibu jari kaki william rupenye salah lukis!! Patutla nampak pelik! Wakhakakhakakaaledsdasjdlajd! :D